Our philosophy
For The Future.
A pioneering spirit to take on all new challenges
Based on our philosophy of "leaving clean water and resources to future generations," we have developed technologies for manufacturing ceramic balls to adsorb and remove impurities from water, ceramics, and fine ceramics from raw material grinding to finished products.

We also have the know-how and technology to use waste materials, unformed products, and used products as raw materials, as well as the technology to recycle graphite and rare metals.

By utilizing these know-how, we support Indian companies in their activities in Japan to expand business between India and Japan in order to survive in the next 20 years. In addition, we are expanding our sales channels by proposing world-class Japanese products to India at the request of Indian companies. In recent years, we have been working with Indian companies to trade tea, coffee, retort foods, herbs, spices, etc. (India Business)

Message from the President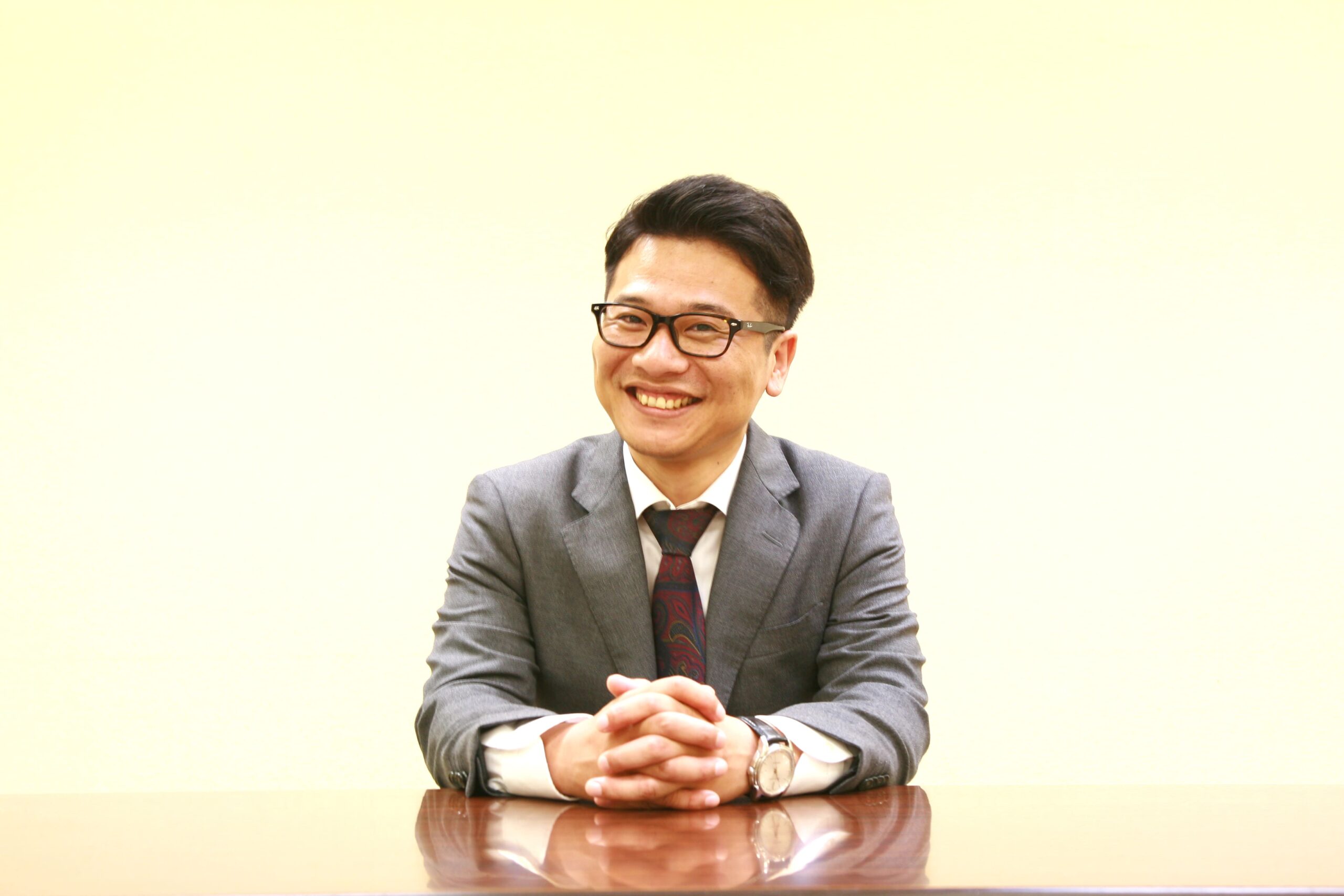 Greetings from the President
Thank you very much for your continued support.
As a manufacturer of ceramic balls and a general trading company, our business activities are first and foremost for the satisfaction of our customers. We believe that our mission is to provide products and services that satisfy our customers and are chosen by them.
We also aim to be a sustainable company that continues to grow by pursuing the satisfaction of all our stakeholders, including the environment.

While handling raw materials related to old ceramics in the Tono region, the birthplace of Mino ware, we refined our knowledge of raw materials and recycling techniques, and realized that inorganic materials are finite. While developing technologies to effectively utilize limited inorganic materials such as alumina, sic, zirconia, magnesia, etc., and to make effective use of them by returning discarded materials to resources, we have evolved into recycling products using state-of-the-art technologies such as fine ceramics and new ceramics. At the same time, we have improved our technologies for processing, grinding, and manufacturing of ceramics products, and have increased our connections with related companies.

For the future, we aim to be a company that grows together with the rich nature by reducing industrial waste in Japan and passing on these technologies to India, based on the recycling technology that Japan can be proud of to the world.

CEO
Daiki Miyake
Company Profile Materials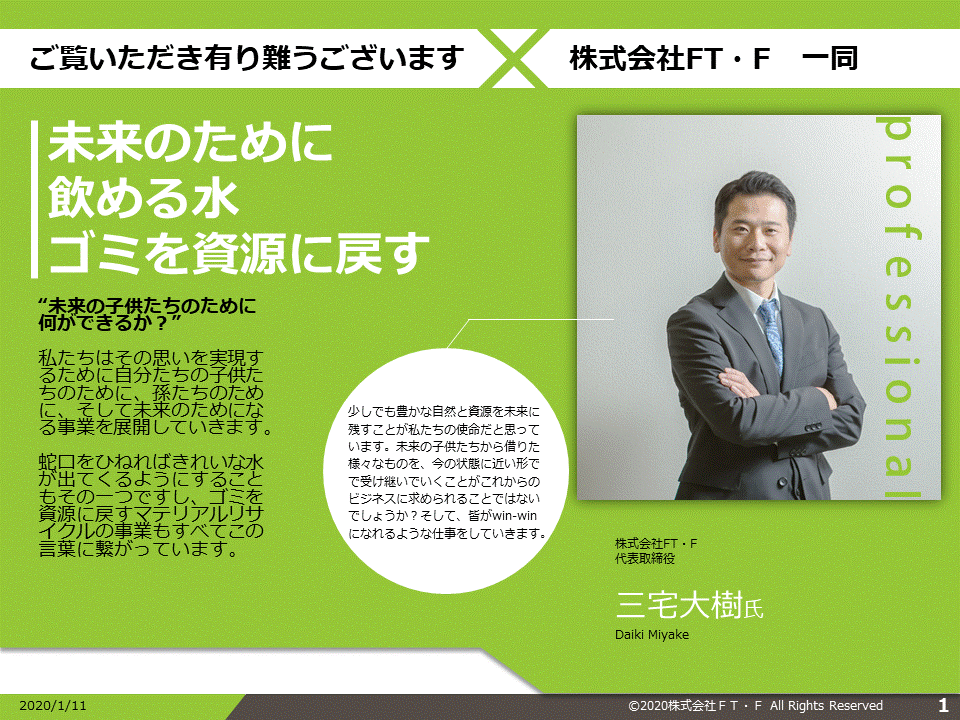 Company Profile Materials
Please fill out the inquiry form and send it to us. We will send you our PDF document by email.
Company Information
Company name

FT・F Co.,ltd.

Location

【Head office】
509-7206, Japan
1551-121 Kusumi, Nagashima-cho, Ena-shi, Gifu-ken

【Ena Office & Factory】
509-7122, Japan
1810 Takeori, Takenami-cho, Ena-shi, Gifu-ken

【Yamaguchi-ken Office】
*Now in preparation

【Delhi office】
37/2B, Rajpur Road, Civil Lines, Delhi,110054, India

CEO

Daiki Miyake
Establishment
22nd May 2019
Business Activities

Manufacturing and sales of water purification catalysts
Sales of filtration equipment and plants
Manufacture of ceramic balls
Manufacture of ceramic products
Purchase of ceramic wastes
Outsourcing (Outsourcing)
Sales of ceramic raw materials
Sales of plastic materials
Sales of recycled materials
Purchase and sale of used machinery
Contract manufacturing of health goods and prototypes
Coordination with Indian companies

Secondhand dealer No. 531200000559

Contact address
Tel:+81573-25-6118
Business partner 
株式会社インダストリー(愛知)、三協メカニクス株式会社(山口)、三幸商事株式会社(岐阜)
SFO Technologies(India)、InVenture Advisers(India)、PRIME TRADE(India)etc.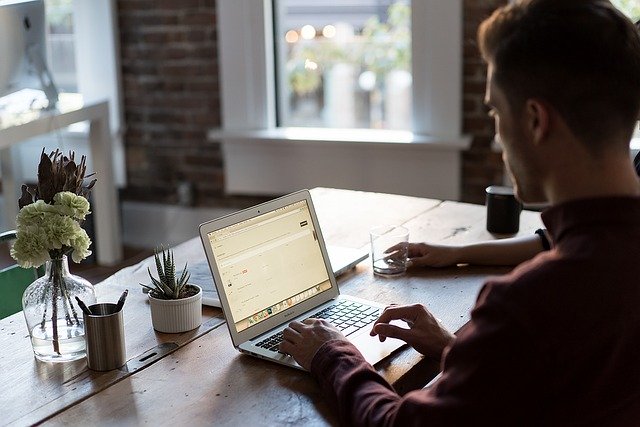 Click here to contact us.
We will be flexible.
Please feel free to contact us for a quotation, to inquire about the possibility of manufacturing, or to ask about ceramic balls.
Ena Office & Factory
Mizunami Factory
Yamaguchi-ken Office
We are currently preparing to open the site. Please wait for a while.
Delhi Office
Business Activities